Blissful Affairs was created after the owners attended several subpar events. They would often discuss what could have been done differently to enhance each event and eventually Blissful Affairs was born. Creators Shameka Houston and Akia Kelly have planned personal birthday parties to their own weddings for about 5 years. It is the goal of Blissful Affairs to create fabulous events while embracing the individuality of each client. We want to make your event unforgettable. Impress your guests with a spectacular event planned by your friends at Blissful Affairs!

Fun:: Fabulous::First Class
Powered by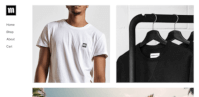 Create your own unique website with customizable templates.